Skål International Mumbai South welcomes the Holiday Season with a Grand Christmas Party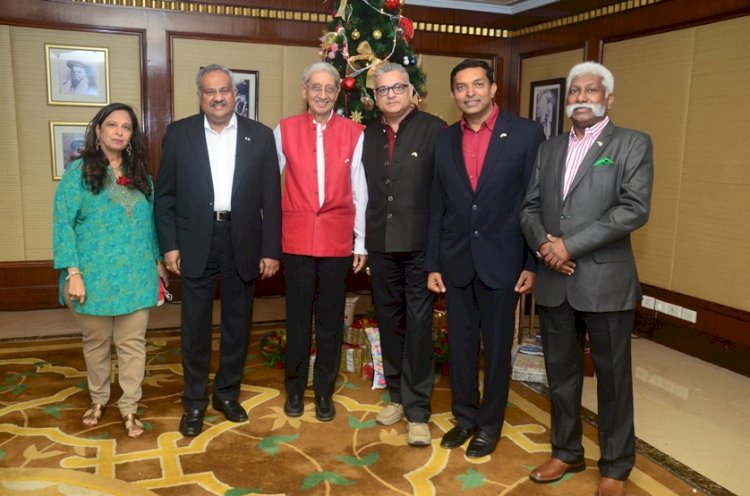 Skål International Mumbai South (SIMS 732) brought in the joys of the Holiday Season by hosting a Christmas Party at ITC Grand Central, Parel, on Friday, December 17th. Camaraderie, the choicest of delicacies and desserts, and an extremely exciting round of Secret Santa were the flavours of this grand celebration.
The SIMS 732 Christmas Party was attended by Skålleagues from the Club, along with their respective spouses, and a number of other guests. Also present at the event were Sk. Sunil V. A., President, Skål International Bombay 144; Sk. Sushil Bhatt, Immediate Past President, Skål International Bombay 144; and Rajiv Duggal, International Advisor, Zanzibar Tourism Promotion Centre (ZTPC).
Sk. K. Thomas, Secretary, SIMS 732, said, "It has been a tough year for many of us, personally as well as professionally. But it's time say Goodbye to the old, and welcome the new! This Christmas Party is to bring in the Holiday Season and the coming year with renewed spirits, and a prayer that things only get better in 2022. It is the time to be merry, celebrates the Christmas cheer, and have a great time with our loved ones."
The evening was a splendid affair, with the best of food, wine and desserts. The Christmas- special menu and desserts brought alive the feel and flavours of this beautiful season! Sk. Kuldeep Bharti, President, SIMS 732 (and VP, Operations, ITC Hotels and Welcomhotel Group); Sk. Bhagwan Balani, Director, Young Skål, SIMS 732 (and General Manager, ITC Grand Central; and the Group's team came together to curate this wonderful menu and making it a special and memorable event.
Christmas is all about giving and receiving. Keeping this in mind, SIMS 732 organised 'Secret Santa', where presents were exchanged between members, and each member went home with a gift in their hand, and a whole lot of love in their heart.
Skålleagues at SIMS 732 grooved and moved, smiled and jived, and are now geared to welcome
the Holiday Season and New Year 2022 with an optimistic heart and spirit.