Discover the path to Enlightenment Towards Buddha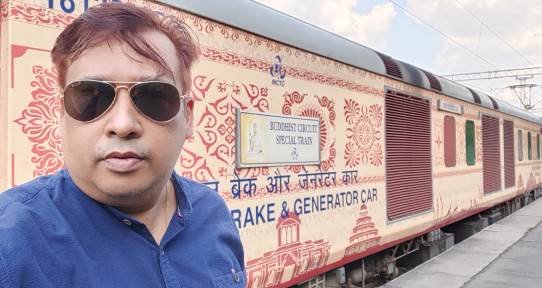 India, the country where Buddhism originated has rich memories of the Buddhist legacy. As part of its drive towards austerity, the only kind of art and architecture that it supported were Stupas, Chaityas and Viharas.

The IRCTC's Buddhist Train takes you to these places which had a significant impact on Buddha's life and teachings. Board the train from Safdarjung Railway Station (Delhi) as it heads for religious and traditional Gaya.
GAYA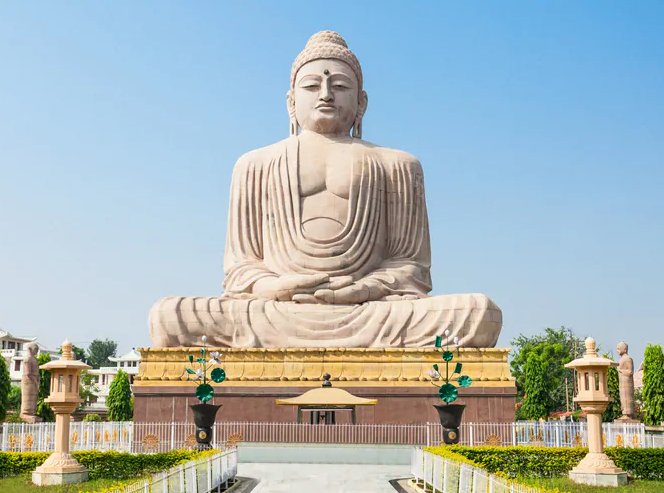 Day 1 - Bodhgaya is where Buddhism began. The tours covers - Mahabodhi temple is also known as Bodhgaya Buddha temple. The temple is made of brick and is one of the few marvels of architecture standing from the Gupta period.
Bodhi Tree - the heart-shaped leaves of this tree are easily recognizable and help you identify this tree from the others. Lord Buddha sat here for 49 days straight before he attained enlightenment and a shrine was erected on the spot where he sat.
Falgu River - Earlier known as Niranjana River, Lord Buddha used to meditate on the banks. The river is highly venerated with people usually flocking here to perform last rites of their ancestors to appease the departed souls.
Royal Bhutan Monastery - There is a 7 feet tall statue of Lord Buddha and a lot of detailed clay carvings and Buddhist scriptures carved inside the walls and stones which are placed along the path.
RAJGIR

Gridhakuta Hills - The hill is shaped like a vulture. A ropeway must be taken to the top of the hills from which one can see the Karanda Tank where Gautam Buddha used to make his bath and Pippala cave which was a center of meditation.
Bimbisara Jail - It is a ruin of an ancient Kingdom which was ruled by King Bimbisara. He was fond of Buddha and its teachings and culture. But his son Ajatshatru wanted to rule and put him in jail.
Venuvan Monastery - Rajgir Buddhist Mandir travels takes you to Venuvan Monastery which was built by King Bimbisara. It is a Japanese shrine with a different type of bamboo groves and plants spread all around. In the middle of the monastery is a fish pond and a Stupa near one of its sides.
Nalanda

Hieun Tsang Memorial Hall - Constructed in the memory of Hieun Tsang a famous Chinese traveler. He came to India to study Buddhism. The memorial hall contains 224 books on sutras, 67 books on Sarvastivada, 192 shastras and some relics which help people gain insights about Buddhism.
Nalanda Ruins - The university was considered a magnum opus of architecture is sprawling over 12 hectares. It comprises of 10 temples, eight individual compounds, classrooms, meditation halls, parks, and lakes. Scholars and teachers from all around the world resided in dormitories. It was spring water of knowledge and wisdom with text collections on medicine, astronomy, logic, astrology, and literature which makes it an unmissable place on Nalanda Buddhist tour. Some Inscriptions, coins, sculptures, and seal were extracted from the site and are kept in Nalanda Archaeological Museum.
Varanasi (Sarnath)

The Tibetan Temple - It was built at the beginning of the 20th century and has Buddha in a resting position. It is famous for its Buddhist paintings and frescoes which are laden on walls and ceilings.
Chaukhandi Stupa - is one of the most magnificent structures to be made during the Buddhist era in Varanasi.
Ashoka Pillar - There are four lions perched on top which symbolize the four directions Ashoka ruled, and the wheels are a symbol of his tolerant rule.
Thai Temple - It is preserved and looked after by Thai monks. The pagoda style of architecture has prominent tiers and eaves which add to the serene vibe of the place.
The newly added feature is 2 hours cruise on Alakhnanda Cruise on Varanasi Ghat for an spectacular view of evening Aarti. The cruise makes a trip for two hours and starts from Assi Ghat.