Madhya Pradesh's Caravan Tourism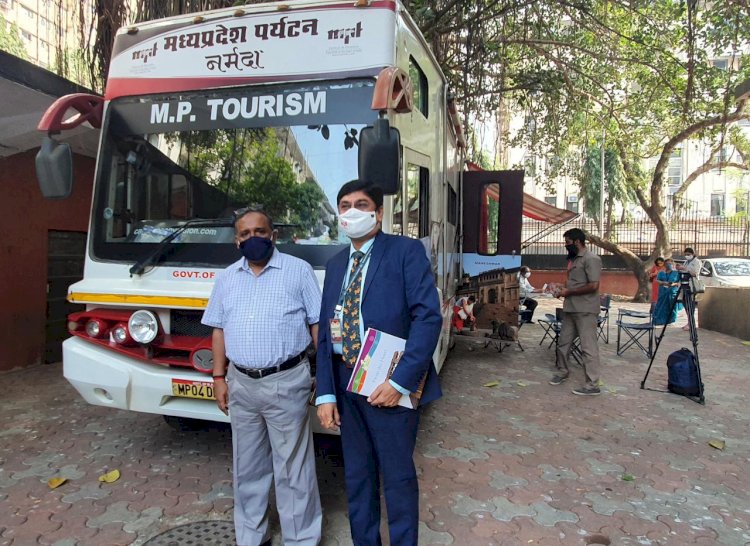 Madhya Pradesh Tourism along with Indiatourism Mumbai today commenced a joy ride for Media to promote Caravan Tourism "Holiday on Wheels" in Mumbai and showcase the facilities on-board.
Keeping in mind the present situation and fulfilling a motive of "Save Tourism, Safe Tourism", Managing Director of Madhya Pradesh Tourism Mr. S Vishwanathan (IAS) has taken this unique initiative of introducing Caravan Tourism – "Holiday on Wheels" in Mumbai and is placed in Marketing office, MPSTDC, Navi Mumbai.
This Caravan, as the punch-line suggests, is a well-furnished studio style designed vehicle with home like facilities. One can cook on the move in microwave, one can shower on the go or one may even simply watch their favorite movie, lying comfortably on the easily convertible sofa-cum-beds. The vehicle is specially meant for private journeys in home like comfort.
One may park the vehicle at any place on way to enjoy the scenic beauty around or cook on the foldable hydraulic burner supported by LPG which is attached to the body of the vehicle and opens outside with canopy and LED light which facilitates cooking even at night times.
The inbuilt washroom is enabled with a 500 litre water tank and waste management has been done keeping in mind the environmental concerns.
Capacity: 08 adults, studio-style Bedroom having convertible Sofa cum beds with three ACs for comfort, spacious Washroom, two LCD TVs, Microwave Oven, Refrigerator and a Locker is also available.
In Madhya Pradesh, it can be parked in the chosen hotels of Madhya Pradesh Tourism for washing and charging of batteries. It can also be booked for tours to any other place in India too.
For bookings and more details:
Call: Ashok Arora–7303980786 Ria Trivedi–8655226421 Mahek Padhiar–9321411297
Email: mumbai@mp.gov.in
Visit: Marketing Office Mumbai, Madhyalok, MP Bhawan, Sector 30A, Vashi, Navi
Mumbai - 400703