Maharashtra Tourism Department celebrated World Tourism Day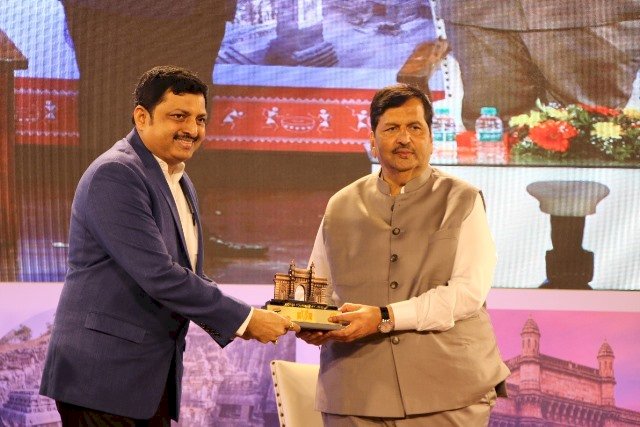 With an aim to showcase various new initiatives adopted by the Maharashtra tourism department for 'Rethinking Tourism', the department planned multiple activities to celebrate World Tourism Day, 2022 on 27th September at Yashwantrao Chavan Auditorium, Nariman Point. Hon. Tourism Minister Mangal Prabhat Lodha, Assistant Chief Secretary Nitin Kareer, Social activist & singer Mrs. Amruta Fadnavis, Indian singer & composer Shankar Mahadevan graced the occasion with their presence. Milind Borikar, Director, Directorate of Tourism (DoT) was also present during the event.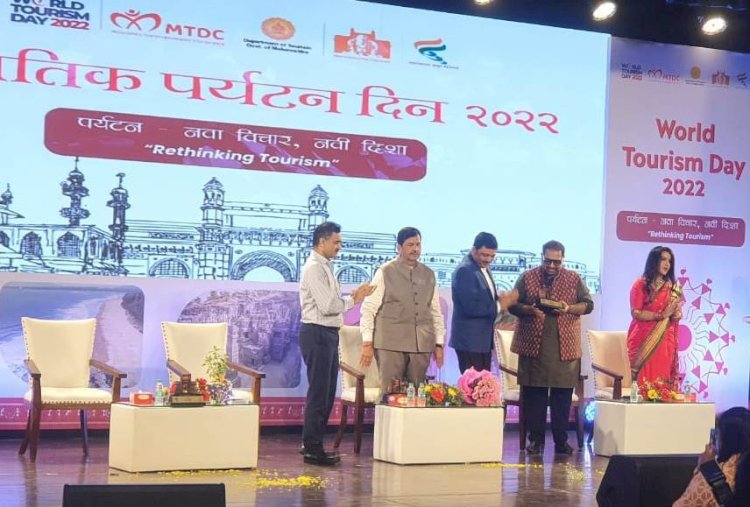 As this year's theme for World Tourism Day is 'Rethinking Tourism', the tourism department is set to rethink and redefine tourism in the state by embracing a more sustainable, resilient and inclusive tourism.
During the event, Mumbai videos, Maharashtra podcast, 360 degree videos of UNESCO heritage sites, TV campaigns etc. were launched. MoUs with Indian Oil Corporation Limited (IOCL), Western Coalfields Limited (WCL), Haffkine Institute and Mumbai veterinary college were also signed. Moreover, the department launched 7 city brochures that were newly created with an aim of rethinking and transforming tourism.
The state has a rich heritage of forts, beaches, temples, historical monuments. Hence, Maharashtra has always been a center of attraction for interstate as well as international tourists. Hon. Tourism Minister Mangalprabhat Lodha appealed that everyone should try to keep Maharashtra at the forefront in the field of tourism.
He further said, "This year's theme is 'Rethinking Tourism' which Maharashtra Tourism is implementing by using innovative activities in the field of tourism. The effort is well appreciated as one international tourist visit leads to employment of 9 people. Hence, the state government is supporting our initiatives. The tourism department is striving to adapt and upgrade the definition of tourism in the state by adopting more sustainable, flexible and inclusive tourism."
Launch of 75 Mumbai videos - Mumbai Video Series Project covers everything from the pulse of the city to the quaint escapes. The project is framed around popular and must-visit tourist attraction points in Mumbai. It covers the tourist points that hold sightseeing value for local as well as national-international tourists. These destinations represent food culture, history, stories and different styles of architecture that Mumbai has shaped over time.
75 videos will be made through the project that covers 200 tourist locations in Mumbai. Episodes will be posted weekly on Maharashtra Tourism's official Youtube channel.
Launch of 'Kaano dekhi with Unlimited Maharashtra' Podcast - Podcast has been identified as one of the most significant mediums of promoting tourism. It is emerging as a strong medium to promote business and entertain audience and grabs over 70% attention as compared to other mediums. It will help to create awareness about various destinations, cultures, cuisines, historical and spiritual significance, while tempting them through the means of audio to explore the destinations and products of Maharashtra.
As a part of transforming tourism, 'Kaano dekhi with Unlimited Maharashtra' series will be aired on Radio city 91.1FM, weekly for a period of 6 months showcasing various segments of Maharashtra.
Launch of 4 TV campaigns - To promote specific tourist destinations & experiences in Maharashtra, Tourism department has launched 3 Television campaigns to integrate optimal promotions and publicity of Maharashtra Tourism. These are namely Maharashtra on my lips by TV18 to showcase different destinations along with their local Maharashtrian cuisine to be aired on CNN News18, CNBC AWAZ and CNBC Prime HD, Postcards of Maharashtra by National Geographic based on Forts, Temples, art & music, wildlife, wonders of Maharashtra, festivals and architecture themes and will be aired on National Geographic Channel and FOX life, RoadtrippinwithRnM by History TV to promote Maharashtrian cuisine & destinations like Mumbai, Alibaug, Mahabaleshwar, Kolhapur, Satara, Pune, Ahmednagar and Nashik. It will be aired on History TV18 SD & History TV18 HD.
Launch of 360 videos, podcast & vlogs - With an aim to be at par with the fast-paced and tech-savvy world, Maharashtra Tourism is creating 360 degree Virtual Reality (VR) videos, podcast and vlogs of all the 6 UNESCO heritage sites in Maharashtra. The duration of each 360 degrees video would be around 2-5 mins, podcast would be around 5 mins and vlogs would be around 2-3 mins. The purpose of this is to attract domestic & international tourists specially the youths who are progressing at a jet speed. A total expenditure of around 29 lakhs will be borne for this project. Mentioned below are the locations covered:
1. Ajanta Caves
2. Ellora caves
3. Elephanta caves
4. CSMT railway station
5. The Victorian and Art Deco Ensemble of Mumbai
- Bombay High Court
- University of Mumbai (including Rajabai Clock Tower, University Library and Convocation Hall)
- Western Railway headquarters
- Chhatrapati Sangrahalay
- Gateway of India
- Brihanmumbai Municipal Corporation building (BMC)
- GPO
- Telegraph building
6. Western ghats (Sahyadri range)
a. Kaas plateau
b. Radhanagri (Dajipur) wildlife sanctuary
c. Chandoli National Park, Sangli
d. Koyna Wildlife Sanctuary, Satara
MoUs with IOCL, WCL Haffkine, MVC - To support Unique Tourism Projects under Maharashtra Tourism Policy 2016, DoT signed an MoU with Indian Oil Corporation Limited (IOCL) with a desire to light up (sound and light show) the most iconic monument of Mumbai- the Gateway of India, thus making it a destination to further attract domestic & international tourists and soak in the environment and culture of the city. The IOCL will finance the project through the CSR funds and facilitate the operation of sound & light show through its technical expertise. Similarly, another MoU was signed with Western Coalfields Limited (WCL) to begin the concept of Mining Tourism in Maharashtra to provide unique and experimental ways to unfold Maharashtra's Mines and Minerals treasure. Tourists will get to experience mine tourism at Saoner (UG) and Adasa (OC) in Nagpur Area, Niljai (OC) Wani Area and Bhatadi (OC) in Chandrapur Area.
In order to create awareness of the rich heritage, history and architecture of the monumental structures of Mumbai Similar to High Court heritage walk, DoT had proposed to begin a walk at Haffkine Institute and Mumbai Veterinary College in Mumbai. With the same aim, non-financial MoUs were signed with them today.
Inauguration of 7 city brochures - In order to attract domestic and foreign tourists to the state by giving wide publicity to the tourist places in Maharashtra, DoT has created new and revised information brochures of 7 cities as tourist places. They are Mumbai, Pune, Nagpur, Aurangabad, Nashik, Kolhapur and Ratnagiri. After the event, these brochures will be kept at select hotels in respective cities to cater the needs of the tourists visiting them.
Felicitation of contributors - WTM award winners, hoteliers, tour operators, college principals and entrepreneurs were felicitated during the event for their contributions in boosting tourism.
1 Responsible & Sustainable tourism awards No Footprints Founder Harshwardhan Tanwar / Eesha Singh
2 Responsible & Sustainable tourism awards TigerTrails Jungle Lodges & Camps Partner Aditya Dhanrate
3 Responsible & Sustainable tourism awards Village ways Co- Founder and Managing Director Manisha Pande
4 HRAWI Hotel and Restaurant Association (Western India) President Mr. Gurbaxish Kohli
5 IATO Indian association of Tour Operators Maharashtra Chapter - Chairman Mr. Jitendra Kejriwal
6 ADTOI Association of Domestic Tour Operators of India Maharashtra Chapter - Chairman Mr.Dharmendra Singh
7 TAAI Travel Agent Association of India Western Region Head Mr.Sameer Karnani
8 TAFI The Travel Agents Federation Of India (TAFI) Chairman, Western Head Mr. Jitul Mehta
9 MTOA Maharashtra Tour Operator Association Director Mr. Vishwajit Patil
10 MAC Maha Adventure Council President and Founder Director Mr. Vasant Limaye
11 TAAP Travel Agent Association of Pune Chairman Dr. Vishwas Kalekar
12 TAAN Travel Agent Association of Nasik President Mr. Datta Bhalerao
13 TAAA Travel Agent Association of Aurangabad President Mr. Ashutosh Badwe
14 AGRI TOURISM Agri Tourism Development Corporation (ATDC) Managing Director Mr. Pandurang Taware
15 College Garware Institute pf career Education & Development Director/Placement Officer Dr. Kehurkumar Nayak/Ms. Shilpa Borkar
16 College Ruia - Travel & Tourism Deparment Matunga, Mumbai Principal Dr. Anushree Lokur
17 College Vaze Kelkar College - Tourism & Hospitality Deparment HOD Ms. Arpita Joshi
18 College Government Polytechnic college - Travel & Tourism Deparment, Thane HOD Mr. Arvind Mahajan