Pride Sun Village Resort and Spa, Goa reopens its door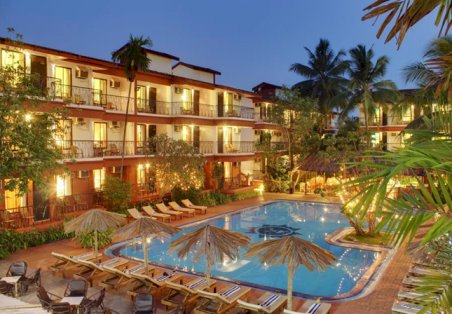 Pride Sun Village Resort and Spa, Goa reopens its door to welcome back its guests into a safe and hygienic environment under the 'Pride Safety Assurance' initiative. This assurance covers hygiene guidelines, booking policies as well as precautions to be taken by guests and staff to ensure safety and flexibility. The resort is situated uniquely over a luscious hill in Arpora North Goa and the hotel showcases Mediterranean design set in exposed Goan laterite stone.
The Covid-19 Pandemic has raised exceptional demands on the cleanliness and hygiene standards of the industry. And it can only be attained with the implementation of stringent protocols for the current circumstances. As a part of the 'New Normal', the resort has introduced many safety measures like on arrival, thermal screening will be conducted at the entrance & luggage will be sanitized, guests will be greeted with hygiene kit carrying Sanitizer, Face Mask & Gloves and immunity boosters will be given as the welcome drink to them.
With travelers being extremely thoughtful about their accommodation, the need for safety of staffs and guests is of utmost priority. To attain the highest level of safety and hygiene standards the resort makes sure that all the key touch-points area in its premises are sanitized in every half an hour. Medical assistance & doctors are available on call 24*7 for emergency and dedicated rooms are also available for guests who have been advised quarantine. The guests can also go for a safe drive, as the resort cars are regularly sanitized.
Mr. Atul Upadhyay, Vice President Operations, Pride Hotels Ltd. says, "The impact of COVID 19 is unprecedented but we're grateful to our loyal guests who have bestowed us with their trust during this pandemic. We want them to feel safe when they walk through the doors of our resort at all times. In order to make it possible we need to be transparent with them on the further steps we've taken in the areas of cleanliness, hygiene and social distancing. It's also important for us to make our staff feel safe while working. We've launched various training programs for them to be well equipped while serving the guests. We believe in creating a premium hospitality experience for our guest and look forward to delivering a safe, secure and comfortable experience to them."
The sprawling resort contains aesthetically designed rooms, where comfort and style blend together, and offering unmatched luxury to the guests. Welcoming them to a new era of travel with the 'new normal' stay experience the property will give utmost priority to their health, safety and security. The resort is a perfect place to set up a workstation for business travellers and a delight for nature lovers. From social gatherings and high-end product launch parties to corporate meet-ups, the Pride Sun Village Resort & Spa houses a palatial banqueting venue for hosting a variety of occasions and celebrations. The decor of the conference rooms and the banquets has been designed to perfectly complement the theme of formal to casual and lavish occasions. It flaunts an old-world charm with soft and warm tones that ensure a personalized and bespoke stay with its delectable dining options and extraordinary services.
Visit: www.pridehotel.com