Shripad Yesso Naik inaugurates 'Paryatan Parv - 2022'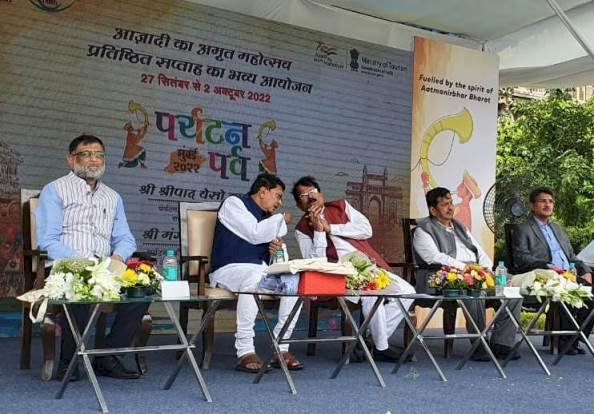 'Paryatan Parv- 2022' kickstarted in Mumbai today, with Union Minister of State for Tourism and Ports, Shipping and Waterways Shripad Yesso Naik inaugurating the three day Tourism Festival at Chhatrapati Shivaji Maharaj Vastu Sangrahalaya in Mumbai today. Maharashtra Government's Minister of Tourism, Skill development and Entrepreneurship, Women and Child Development Mangal Prabhat Lodha was also on the occasion.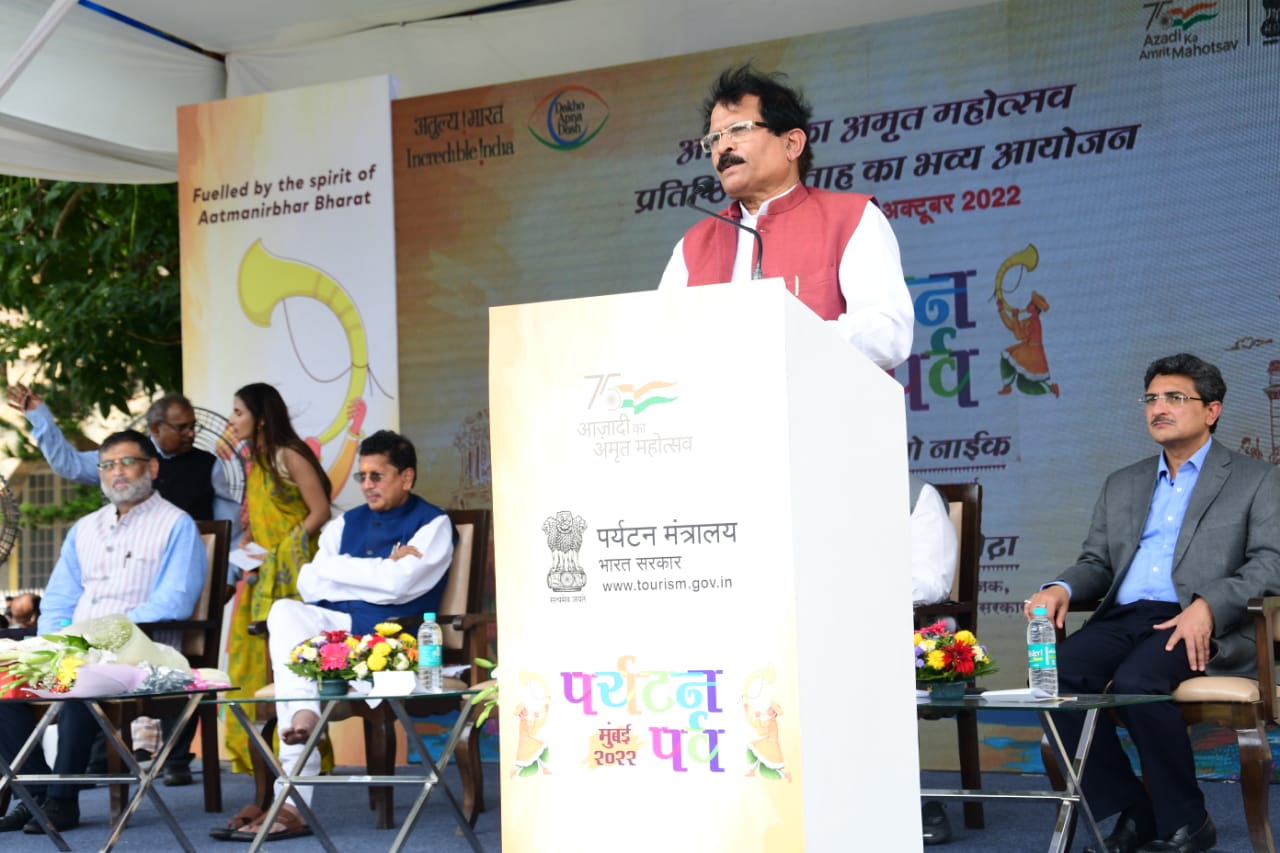 As part of Iconic Week celebration of Azadi Ka Amrit Mahotsav, the Ministry of Tourism is organizing 'Paryatan Parv - 2022' (Tourism Festival) in Mumbai from 30th September to 2nd October, 2022.
Speaking on the occasion, Union Minister Shripad Naik said Tourism Ministry is working towards making India a major tourist destination. India is blessed with a glorious ancient heritage and culture and India's tourist destinations promote world peace and prosperity, said the Minister.
Minister urged all states to focus on film tourism in the country and the upcoming G20 Presidency which is to be held in the country. He also appealed to the citizens to visit the tourist places in the country. "Tourism development in the country is taking place at a new pace", he said. He mentioned the recently held national conference on tourism where discussions centred on inclusive development with creative, sustainable and responsible tourism. The Minister informed that the Ministry of Tourism has sanctioned Rs 7000 crore for the development of tourism-related infrastructure in the country. He also said that the Central Government is striving to promote tourism in rural areas. A comprehensive approach is being adopted for the development of the tourism sector, with all the stakeholder ministries working together for the development of the sector.
Speaking about tourism development in the state of Maharashtra, MoS Tourism stated that the Central Government has sanctioned Rs 66 crore for Coastal Circuit and Spiritual Circuit under Swadesh Darshan Yojana in Maharashtra. Further, Rs 53 crore has been allotted for the development of Trumbakeshwar and Nivrittinath Maharaj Samadhi in Nashik. Apart from this, Mumbai Port Trust has been given Rs 15 crore for the development of Kanhoji Angre Light House. The Minister stated that Rs 50 crore has also been allocated for tourism related developments in the International Cruise Terminal of Mumbai.
Government of Maharashtra Minister Mangal Prabhat Lodha said that 'Paryatan Parv' is a wonderful forum which will gain more and more popularity with every passing year with more people participating in it. He invited all stakeholders to join in the promotion of tourism in Maharashtra.
Economic Advisor, Ministry of Tourism Gyan Bhushan and Chairman, Mumbai Port Trust Gyan Bhushan were present among the dignitaries
About Paryatan Parv - 2022
'Paryatan Parv' is an initiative based on the vision of Hon'ble Prime Minister that aims for promotion of domestic tourism. During his address to the nation from the ramparts of the Red Fort on the &3rd Independence Day, the Hon'ble Prime Minister Shri Narendra Modi had appealed to all the Indians to visit at least 15 tourist destinations across India by 2022.
The Paryatan Parv in Mumbai is being organized to showcase diverse Culture, Art, Crafts and Cuisine of the States and one UT from Western & Central Region namely Maharashtra, Gujarat, Goa, Madhya Pradesh, Chhattisgarh and UT of Dadra & Nagar Haveli and Daman & Diu. This will also bring about a better understanding of heritage and culture of the Region amongst Mumbaikars. The event is promoted with the aim of creating awareness about varied Tourism Product, Cuisine, Heritage and Culture of India. The other Central Ministries like Ministry of Information & Broadcasting (Central Bureau of Communication), Defense, AYUSH, Textiles (Development Commissioner Handicrafts etc. are also participating in the event.
Paryatan Parv shall focus on domestic tourists especially to sensitize youth. The members of Yuva Tourism club from schools and colleges have been invited to participate in Paryatn Parv this year. Paryatan Parv.
The highlights of the event in Chhatrapati Shivaji Maharaj Vastu Sangrahalaya, Mumbai from 30th September to 2nd October 2022 are as follows :
Tourism Pavilions of 8 State Tourism Departments from Western & Central Region and also other State Tourism Offices present in Mumbai.

Multimedia Exhibition on Azadi Ka Amrit Mahotsav Celebrating 75 years of India's Independence by Central Bureau of Communication , Ministry of Information & Broadcasting, Government of India

Kitchen Studio – showcase of cuisines of the region under the theme 'Pashim – Madhya Milap' by Institute of Hotel Management, Mumbai

Crafts Bazaar with 15 Handicraft stalls by Artisans from 5 states and one Union Territory in the Western & Central Region invited by Development Commissioner, Handicrafts, Ministry of Textiles.

Cultural Performances at the Central stage showcasing Folk Arts from across India.

Ministry of Ayush stall on theme Ayurveda @2047.

Stall by Indian Air Force recruiting office, Mumbai promoting Agnipath Scheme.

Free Guided Walking Tours by the Regional Level Tourist Guides covering attractions in and around Chhatrapati Shivaji Maharaj Vastu Sangrahalaya.

Workshop on Art and Competitions for School Children

Other Interactive Activities to keep visitors engaged.
The event is open for general public from 10AM to 7PM for 3 days and entry is free.