Thailand's Responsible travel in the New Normal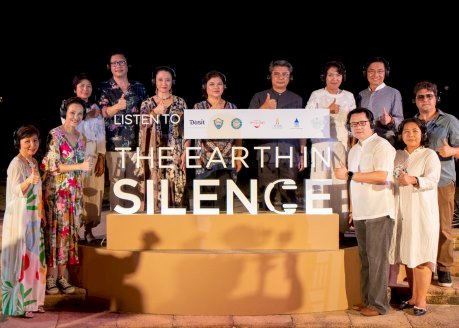 Dusit International, recently partnered with silent live concert specialists Sounds of Earth, the Tourism Authority of Thailand (TAT), the Thailand Convention and Exhibition Bureau (TCEB) and the Thai Chamber of Commerce to host an exclusive event designed to showcase how events and functions can be held safely, responsibly and sustainably in the new normal while delivering meaningful experiences for guests.
Called 'Listen to the Earth in Silence' – the exclusive event was held on Friday October 2 at Dusit Thani Hua Hin resort and was attended by travel industry specialists and high-ranking diplomats. The programme focused on low-impact, eco-friendly travel methods, community-focused activities, wellness-focused cuisine, and innovative solutions for events and functions which Dusit, the TAT and TCEB believes will be central to facilitating and encouraging responsible MICE travel in a post COVID-19 world.
In line with TCEB's basic guidelines for sustainable events in the new normal, which includes, amongst others, the promotion of public transportation, local attractions, and locally sourced organic foods, the event began with a 'carbon-saving' private train journey from Bangkok, which also featured a healthy lunch expertly catered for by Dusit Events.
Upon arrival in Hua Hin, participants visited a local marine centre where they helped to release baby crabs to the wild. Staying at Dusit Thani Hua Hin, they learned about Dusit's hybrid meeting models that facilitate small and safe gatherings while simultaneously leveraging technology for secure, reliable and instant global reach.
The demonstration included a meeting room equipped as a high-end recording, live-streaming and presentation studio with the latest audio-visual equipment for worldwide broadcasting. This included a multi-screen set up which allows for real-time interactions with remote event participants; a green screen backdrop for high-definition virtual backgrounds; and dedicated professional event specialists who are on hand to ensure swift and seamless connectivity. Similar virtual meeting solutions will be rolled out at other Dusit properties in Thailand, and will also be available for offsite functions catered for by Dusit Events.
Highlighting Dusit's thoughtful, holistic and technology-focused approach to events, the event also featured a live-yet-silent beachside concert hosted by Sounds of Earth. Featuring music specially composed to raise awareness of the environment – both lyrically and sonically – the live performance was beamed to the audience via wireless headsets, allowing them to soak up the atmosphere and enjoy a shared experience amongst nature without any noise pollution. Guests also enjoyed an exclusive dinner featuring healthy ingredients from Dusit Thani Hua Hin's own organic gardens.
Dusit's innovative MICE models fully embrace TCEB's guidelines for sustainable events to ensure all processes are as environmentally friendly as possible. All Dusit Hotels and Resorts in Thailand have also been certified for Thailand MICE Venue Standard (TMVS) by TCEB.
Groupwide, Dusit has also rolled out several new services designed to offer extra convenience, experience and value across all aspects of the guest and customer journey.
This includes Dusit Care – Stay with Confidence services, which comprise, amongst others, officially certified, heightened standards of hygiene and cleanliness; flexible check-in and check-out; anytime breakfast, the introduction of mobile payment methods, and more operational enhancements designed to bring utmost peace of mind to guests.