A destination in itself Skyview Patnitop by Empyrean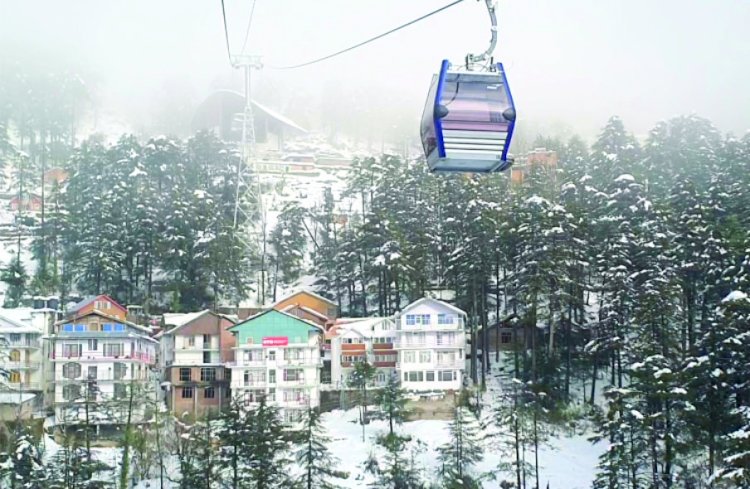 The winter wonderland of Patnitop just two hours from Jammu, is serene and picturesque. As winter falls, the region is covered with snow all around. With an early snowfall this year, the place is all set to host the tourist, for winter sports and snow adventure.
We landed in Jammu and directly headed to Patnitop by road. The drive is very smooth on the four-lane highway (yes, you read it right) crossing 4 tunnels. The view of the countryside was mesmerising, the river, gurgling and rushing alongside the road kept us wide awake for that one good shot to capture. The climate here is pretty unpredictable so, one should be well prepared for it. We reached Sanget (Udhampur) despite the heavy rain. However, our destination Patnitop and the road leading to it from Sanget was covered with 3 feet of snow, blocking the way to our hotel. But, we didn't miss out the scenic view of Patnitop. All thanks to Skyview Patnitop by Empyrean. It is a new adventure destination in Patnitop, or you can say it is a destination in itself. The lower terminal of the Skyview Gondola, that began operations a few months ago in August 2019, is nestled between Sanget and Patnitop. This newly commissioned state of the art ropeway service takes visitors to Patnitop in less than 15 mins from Sanget, which by road is a 45-60 mins drive. It is the best and most scenic short cut to reach Patnitop. This magical winter destination, still pretty untouched and unexplored, will surely bring out the adventurer inside you. Plus, the experience of fresh falling snowflakes touching your face and the cold freezing wind is something that cannot be expressed in words.
The stunning backdrop of Skyview Patnitop enjoys unbeatable views of the snow-covered mountains. The project aims to transform Patnitop to a major tourist attraction. Not only is the Skyview Patnitop ropeway India's highest ropeway in terms of ground clearance, but the inclusion of some adventure activities such as Zipline, Magic Carpet, Tubing Sledge is also bound to attract many visitors. One can also find an array of F&B options at The Wok, Skyview Cafe and Street Food Carts catering to every Indian taste-bud and suiting every pocket. It's an ideal destination for those who are looking for a new destination and adventure or getaways with family, friends or even corporates and MICE segments.
The destination matches with the world-class facilities equipped with a high level of safety measures and securities. It is one of the best in class in the Indian Market.
Interesting facts Skyview Patnitop -
The project is spread over 11 acres, which includes 10 acres at the lower terminal and 1 acre at the upper terminal.

It is the largest Indo-French collaboration in mountain infrastructure development and India's highest ropeway with over 65 mts. of ground clearance and the longest span of 849 mts between 8 towers and 18 Gondolas.

The entire site was built in record 2 years and 4 months.

Zipline - In collaboration with Flying Fox, this is Asia's longest zig-zag zipline measuring 580 meters. It starts at an altitude of 1,371 meters and ends at 1,344 meters above sea level. It includes 9 wires & 10 poles, with per hour capacity of 25 people.

Tubing Sledge - The most secure, innovative and fun activity on artificial grass for children [4 yrs & above] and adults alike. The tube starts at an altitude of 1,366 meters and ends at an altitude of 1,329 meters above sea level and features 238 meters of slopes.

Magic Carpet - India's first Magic carpet with a distance of 162 metres ride to the top. It offers the highest surface conveyor capacity.
Some more attractions can be added to your adventure -
Nathatop – Half an hour from Patnitop, it is at an altitude of 2711m. You can enjoy skiing, paragliding and off course the freezing weather.
Sanasar - At an altitude of 2,050 metres, the beautiful place is named after small lakes, Sana and Sar. While picturesque year-round, it's during the winter that the lake becomes a true spectacle, with skiing and other attractions. One can enjoy adventure and sport activities which are specially done in this region during winter.
Naag Mandir - The temple is more than 600 years old and still stands in all its glory. Worth a visit if you are in Patnitop.
Mantalai - Fabled to be the place where Lord Shiva married Goddess Paravati. Set in the midst of a lofty mountain range and virgin forest. Soon International Yoga Centre is coming up in Mantalai.
Shiv Khori - This famous cave is popular for its natural formation of the Shiv Lingam. Surrounded by lush green mountains, it takes a 3km trek up to reach the main cave.