Adventure Tourism has become a key to Uttarakhand Tourism Revival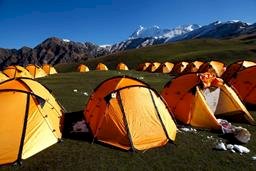 17th September 2020, Dehradun
With the recent Unlock 4 guidelines coming into play and movement starting to normalize, the Uttarakhand tourism sector has started to revive at a slow but steady pace. In order to breathe life into the tourism industry during the ongoing COVID-19 scenario, the Uttarakhand Tourism Development Board (UTDB) has been coming up with several guidelines which are being issued in accordance with the pandemic.

Sharing his views on the revival of tourism industry, Secretary, Uttarakhand Tourism, Dilip Jawalkar, says, "UTDB has been coming up with several schemes during the revival period to support various sectors in the tourism industry. To ease the travel of visitors coming to Uttarakhand, we have removed all kinds of movement restrictions for tourists having the mandatory COVID-19 negative test report. Such people are allowed to enter the state and stay in a hotel for any number of days they want. We are also planning to deploy tourist facilitation counters at all important state borders and provide on-the-spot COVID-19 testing facility to visitors not carrying the COVID-19 negative test reports."

He adds, "Simultaneously, it is our collective efforts at UTDB to constantly be in touch with all the stakeholders and to thoughtfully and mutually come up with apt guidelines, in order to support the industries at every step during these difficult times. For instance, recently we held an online meeting with the stakeholders and effective steps during the revival period of adventure tourism were discussed."

Adventure Tourism contributes to a majority part in the state's overall tourism industry. Uttarakhand is a heavenly destination when it comes to offering various adventure activities to tourists. Through this article, UTDB intends to give an insight on 6 best adventure destinations in the state which can be opted for by the adventurists in the coming time:

White Water River Rafting
Rishikesh is the name that pops-up when someone talks about River Rafting. This is the place where Hollywood actor Brad Pitt spent six hours doing white water rafting in the Ganges. Shivpuri in Rishikesh is quite popular among adventure enthusiasts, as it offers one of the best river rapids ensuring utmost adrenaline rush. Tourists can either plan for a fairly simple half to one day trip or a more adventurous four to five-day trip, depending on their choice of rapids. One can also opt to stay in the picturesque River Rafting Camps set up along riverside and beaches.
Suitable Time Period – The most suitable time to visit Rishikesh for River Rafting is from September mid to December and from early March to May.

Water Sports
Tehri in Uttarakhand houses one of the largest man-made lakes in Asia – Tehri Lake. Bollywood movie 'Batti Gul Meter Chalu' was majorly shot in Tehri because of its mesmerizing beauty. Tehri Lake plays host to a number of exciting water sports activities, such as Boating, Jet Speed Boat Ride, Water Skiing, Zorbing, Banana Boat Ride, Bandwagon Boat Ride, Hotdog Ride, among others. Apart from water sports, tourists can indulge in the beauty of the gigantic Tehri Dam, which is the highest dam in India.
Suitable Time Period – Although Tehri Lake can be visited at any time of the year but the most suitable time to visit for water sports activities is in the summer months of April to June.

Trekking
Uttarakhand, having abundance of vast and splendid mountain ranges, offers the best adventure destination for Trekking and Hiking enthusiasts. Some of the most popular trekking destinations are Kakbhusandi Trek, Chandrashila Trek, Deoria Tal Trek, Roopkund Trek, Valley of Flowers Trek, Pindari Glacier, among others.
Suitable Time Period – The suitable time for Trekking varies from trek to trek, but ideally one should avoid the monsoon season due to risk of landslides.

Bungee Jumping
Bungee Jumping is indeed a bucket list choice amongst adventure junkies and Uttarakhand takes immense pride in offering world-class Bungee Jumping facility in Rishikesh. Conveniently located in Mohan Chatti in Rishikesh, Jumpin Heights is the highest bungee jumping spot in the country. It is also considered as one of the best bungee jumping locations in India by adventurists. It should be noted that this is the only place in India where bungee jumping can be done from a fixed platform. To all the adventure buffs out there, this is surely the best spot to test your adrenaline rush!
Suitable Time Period – The best time for Bungee Jumping is actually anytime of the year, though it's advisable to avoid in the monsoon time.

Paragliding
The grandiose hills of Uttarakhand make for a perfect location for Paragliding. Some of the ideal Paragliding locations in Uttarakhand are Naukuchiyatal, Bhimtal, Pithoragarh, among others. A series of state-of-the-art Paragliding opportunities are offered for both novice and experienced enthusiasts. One can also opt for cross-country Paragliding to cover long distances.
Suitable Time Period – The most suitable time for Paragliding in Uttarakhand is from May to September.

Wildlife Safari
Corbett and Rajaji National Parks in Uttarakhand are quite famous among tourists for their exhilarating Wildlife Safaris. The Safaris are tactfully done in several zones by means of authorised jeeps and on elephant back, offering the best of wildlife views and sightings.
Suitable Time Period – Though Corbett and Rajaji National Parks can be visited at any time during the year, but the most suitable time for Wildlife Safari is from November to February.

Skiing
One of the most popular adventure sports in Uttarakhand is Skiing. Auli Ski Resort in Auli is known for offering world class skiing facilities. The natural slopes provide outstanding opportunities for several Skiing events such as slalom and cross-country.
Suitable Time Period – The best time period for Skiing in Auli is during the months of November to March.

Talking about including adventure sports in the itinerary of their upcoming Uttarakhand trip, Tapasay Bhatnagar, a Delhi-based tour operator, says, "We are getting a group of 16 people from Delhi on a 7-day tour to Uttarakhand later this month. As Uttarakhand is known to offer a long list of adventure sports, we have included some in our itinerary such as cliff jumping and rock-climbing in Rishikesh, as well as Jet Skiing in Tehri Lake. We are looking forward to having an amazing time in Devbhoomi Uttarakhand!"