Life Lessons are always Learned beyond the Classrooms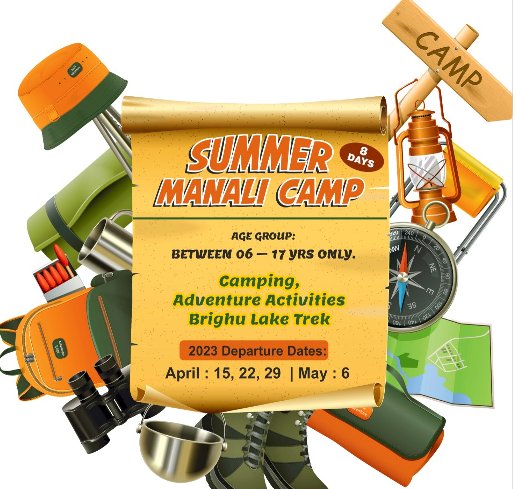 Ravine Trek, one of the leading Tour operators specialized in camping and adventure tours, this year relaunches its Summer Camps for kids. Children have been severely impacted by two years of the COVID-19 pandemic, disconnected from the world of learning, limited social contact, and online learning; it's high time to return back to normalcy. The mask has hidden those cute smiles and has filled small hearts with fears to greet strangers or interact with them.
Summer Camp will help prepare children to return to LIFE. Benefits that a child could learn through Summer Camps -
Learning Social Skills

- Opportunity to express them and interact with new and different people around.

Ice breaker

– The activities in the camp are designed keeping in mind that the kids should come out from their nut-shell and explore nature and socialize freely and express their emotions.

Work as a team

– They must work as a team and realize the importance of every individual to overcome an obstacle or solve a problem. They must use their skills creatively to win games and compete.

Creative Play-

children will have the moments to gain, regain, or refine their skills—critical thinking, communication, collaboration, and creativity.

Developing Confidence - At camp, children are encouraged to go outside their comfort zone and take risk through activities that teach kids it's okay to fail sometimes and helps them recognize their limitations. At camp, obstacles can be seen as challenges that kids can overcome.
Love Nature - Away from gadgets and smartphones they will bond with nature and understand its value, which is sorely missing in the lives of many children today. Children need nature for the healthy development of their senses, and therefore, for learning and creativity.
Explaining the importance of camp, Mr. Kamlesh Lalan, Owner of Ravine Trek said, "According to the study Summer camp fosters emotional intelligence, self-confidence, independence, healthy living, environmental awareness, learning, leadership, and other skills that prove beneficial for growing kids. The development that occurs through camp includes physical exercise and a break from screens and technology which is essential for today's generation".
He added, "Don't miss the opportunity to give your children a head-start this summer. It's time for new friends, new activities, and new experiences. Do enroll your kids for Summer Camp 2023."
The Camp is of 9 DAYS 'MANALI CAMP - BRIGHU LAKE TREK' Cost: INR 24000 per Child (Ex Delhi) + Train / Air Fare. Cost Includes: · To & fro by A/C Volvo Coach (Delhi – Manali – Delhi) · Transfers from Manali bus stand to Vashisht & back. · Accommodation in Triple sharing tent with common washroom / toilet (separate for Boys & Gals) in four men tent with sleeping bag & mattress (Girls – Boys, separate room / tent & Washroom) · All Meals (Starts with Dinner on Day 01 & end with Breakfast on last day) · Services of Trekking Guide, Cook, Helpers during trekking & camping. · Female Trek Manager for complete journey. · 01 Walking pole stick for each participant. · Porter to carry luggage's during trek. · Adventure activities – Rock Climbing, Rappelling, River Crossing. · ATV Bike ride + River rafting at Beas. · Emergency Medical Kit with one Oxygen Cylinder. · Domestic Travel Insurance for every participant.