MOT celebrating National Tourism Day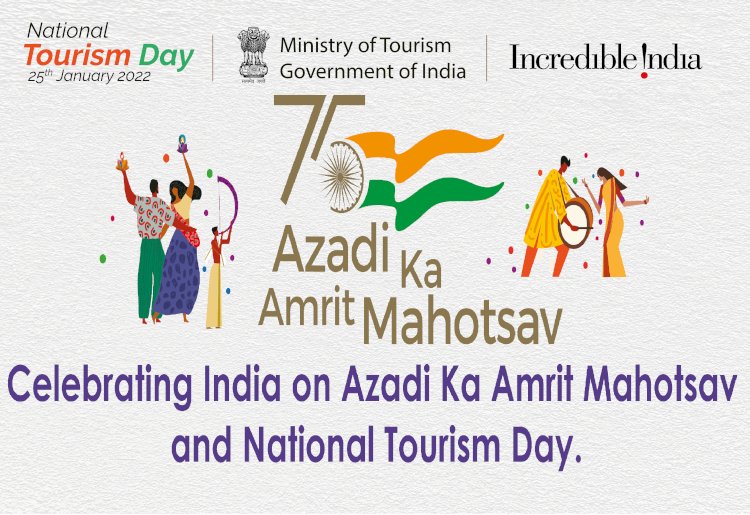 The Ministry of Tourism is observing the National Tourism Day on 25th of January 2022 under the aegis of Azadi Ka Amrit Mahotsav celebration, marking the 75 years of India's independence. The theme of this year's celebration is Rural and Community Centric Tourism. Rural Tourism provides valuable commercial and employment opportunities for communities that are confronted with the growing challenge of offering viable livelihoods for their local populations.
The Ministry of Tourism is also partnering with other Central Ministries, viz Ministry of Culture, Textiles, Civil Aviation, and Railways to mark the day, as overall linkages regarding connectivity, culture, art, craft and textiles are of utmost important for the holistic development of Tourism. For active Janbhagidari and as an outreach program for the citizens, Ministry of Tourism has collaborated with MyGov and is organising four activities namely, National Tourism Day-Poster Design Contest, National Tourism Day- Caller Tune Contest, National Tourism Day - Picture Quiz and a write-up contest on 'Unseen India' - 75 Lesser-Known sites in India. These activities are open to everyone across India and the winners will be awarded exciting prizes.

Due to surge of the pandemic recently, the initially planned physical program has been shifted to a virtual format. To mark the occasion, the Ministry of Tourism would be holding a two-hour program in virtual mode on 25th January 2022 at 1100 hrs to be presided by Hon`ble Union Minister of Tourism, Culture and DONER, Shri G. Kishan Reddy, who is the Chief Guest for the event. The program is going to be addressed by Secretary, Ministry of Tourism, Govt of India. Secretary, Ministry of Textile, Secretary, Ministry of Environment, Forest & Climate Change and Secretary, Ministry of Culture and Shri Anand Mahindra, Chairman of Mahindra Group would also be addressing the virtual event. To highlight selected tourist sites in India, a digital booklet on 75 Sites to Visit in India would be released by the Hon`ble Union Minister of Tourism, Shri G Kishan Reddy.

The Government announced various fiscal and relief measures to benefit the Tourism Industry like providing financial support to more than 11,000 registered Tourist Guides & Travel and Tourism Stakeholders as well as issuing 5 Lakh free Tourist Visas. India has reached the historic milestone of administering 150 crore vaccine doses to citizens and started 2022 on a high note by expanding the ambit to include children in the 15-17 age bracket.
Tourism in the last two years has been affected world over including India due to the ongoing pandemic. In line with the Prime Minister`s call asking every citizen to visit at least 15 destinations by the year 2022 to promote domestic tourism, National Tourism Day celebrations will help to foster the awareness in country on the importance of tourism and its social, cultural, political, and economic value. A gradual increase in the domestic tourism will help for recovery and growth in many folds of the society
The Government is taking cognizance of Rural Tourism – one of the areas in which India can excel. Recently, Pochampally village in Telangana was selected as one of the best Tourism Villages in the world by the United Nations World Tourism Organization for its crafts, reforms, and historical significance out of the three nominations namely Ladhpura Khas in Madhya Pradesh, Kongthong village in Meghalaya, and Pochampally village in Telangana, submitted by the Ministry of Tourism. The Ministry of Tourism proposes to organize a physical event at Pochampally, after the pandemic situation improves. Rural tourism can help to disperse tourism in highly populated countries; this directs tourists away from some of the more well-known, busy areas and provides work opportunities and economic activity in alternative areas.

On the occasion, Secretary (Tourism) has stated that in a country as diverse as India and where a significant number of people are deeply rooted to villages, it is both an opportunity as well as a necessity that tourism develops itself and in turn develops the rural communities and the various art forms, whether they be music, dance, arts and crafts, textiles and cuisine.
To join webinar on 25th January 2022 at 1100 hrs through an exclusive link, kindly register on the following link: https://bit.ly/NTD2022
The webinar will be streamed live on Ministry of Tourism social media handles :
Facebook -https://www.facebook.com/ministryoftourismgoi/?ti=as