Rajasthan Tourism invites Punekars to Explore the State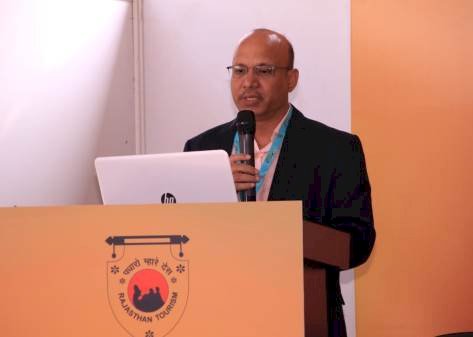 Over the years, the vibrant state of Rajasthan has defined the contours of Indian tourism. Its living traditions and cultural symbols are synonymous with the idea and image of India. Rajasthan by virtue of its natural advantages, cultural heritage, scenic landscape, handloom & handicrafts, majestic forts, palaces, heritage hotels, rich flora & fauna, has enjoyed leadership status when it comes to tourism in India.
Rajasthan – offers more than 1,70,000 beds in 83,000 hotel rooms. Rajasthan Tourism has a strong digital presence with a comprehensive website and multiple social media accounts. It has a huge followers base on social media – Facebook: 6.34 lakh, Twitter: 1.56 lakh, Instagram: 3.60 lakh, YouTube: 1.03 lakh, Pinterest: 2476+ Pins and Tumblr: 100+ Blogs.
At the Rajasthan Tourism pavilion, visitors can access information on the services offered by Rajasthan Tourism Development Corporation (RTDC). This includes information on booking for the Palace on Wheels, tour packages of 2 days 3 nights to 10 days 11 nights, hotels run by RTDC, discounts available for women travellers, students & others, local sightseeing facilities, and local cuisines.
Attractive publicity literature and information will be available on popular tourist destinations such as Jaipur, Udaipur, Jodhpur, and Jaisalmer. There is also literature on how to plan a trip, night tourism, music, dances, shopping, and arts & crafts. Other highlights include material on fairs and festivals such as Camel Fair, Pushkar, Desert Festival, Jaisalmer, Camel festival, Bikaner, and Teej festival of Jaipur. Popular and scenic films will be shown at the pavilion, providing glimpses of the state.
Filmmakers can have information on film shooting locations, rules and regulations, and films shot in the state. Information on tourism policy, investment in the MICE sector and other niche sectors such as Adventure Sports Tourism, Wildlife Tourism, Wellness Tourism, Religious Tourism, Rural Tourism, and Weekend Tourism will also be made available to visitors.
Come and visit the Rajasthan Tourism pavilion for a 360-degree experience of Rajasthan!